Frederic W. Goudy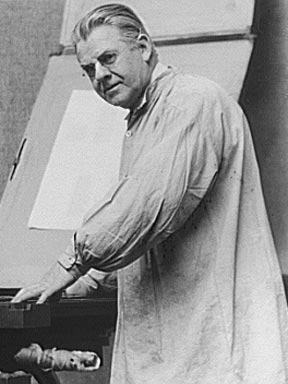 Goudy is probably the best known of American typographers and exemplifies the Golden Age of American Printing. He is famous for his prodigious output; he designed over one-hundred typefaces, yet did not start design in earnest until he was 45.
Born in Bloomington, Illinois, he studied at the Chicago School of Lettering. He best and most popular types are Goudy Old Style and Goudy Text. He was also well-known as a spokesperson for the trade and spent a great deal of time speaking in clubs, associations etc. He was not a 'modern'; he loved the 15th century and found much of his inspiration there.
"It is hardly possible to create a good typeface that will differ radically from the established forms of the past; nevertheless, it is still possible to secure new expressions of life and vigour."
[NOM, photo Wikipedia]
Most popular fonts designed by Frederic W. Goudy