Fred Smeijers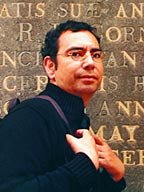 Fred Smeijers is a Dutch type designer, born in Endhoven, NL, in 1961. He specializes in typographic research and development for product manufacturers.
Among his commercially available typeface designs are FF Quadraat and FF Quadraat Sans, Renard, DTL Nobel, Arnhem, Fresco, Monitor, Custodia, and Sansa. The last five are available from TypeBy, the font publishing label that Smeijers co-founded in 2002. His custom typefaces were developed for clients such as Philips Electronics, Canon-Europe, and Heijmans.
In 2000 Smeijers was awarded Gerrit Noordzij Prize in recognition for his achievements in the field of practice, research and education. He is the author of two books: 'Counterpunch' and 'Type Now', published by Hyphen Press in London. In 2004 Smeijers was appointed Professor of Digital Typography at the Hochschule für Grafik und Buchkunst, Leipzig.
He now lives and works in Antwerp, Belgium and Leipzig, Germany.
[Fred Smeijers, April 2006]