Daniel Pelavin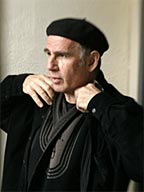 Information about the typeface designer Daniel Pelavin and his fonts.
Daniel Pelavin was born in Detroit, Michigan in 1948 and learned the crafts of typography and design under the tutelage of mentors in Detroit's professional art studios and typehouses.
He lent his knowledge and expertise to the design department at Cranbrook Academy of Art for several years and taught lettering and design for three more years before relocating to New York City. He has maintained a studio there since 1979, producing Illustration and typographic design for clients in publishing, advertising and graphic design.
[Daniel Pelavin, December 2012]
Fonts designed by Daniel Pelavin: