Barbara Klunder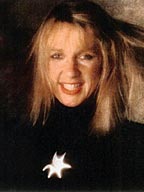 Barbara Klunder was born and educated in Toronto and has strayed as far as Toronto Island, a unique artistic village off the coast of Toronto.
She has been an illustrator/graphic designer all of her life, winning many awards in Canada as well as the USA. She also has a fine-art career, creating textile 'commentary' pieces (which often include type).
She has had a solo Museum, and many gallery shows with her art. Now entranced with oil painting, she has two gallery shows coming up: mixing images and symbols. Some of her work can be seen at her website.
Her son Willem is a successful furniture designer/builder, living and working in Berlin.
[Barbara Klunder, March 2006]
Web: http://www.barbaraklunder.com/
Fonts designed by Barbara Klunder