Andreu Balius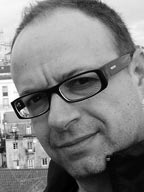 Andreu Balius (Barcelona, 1962) is a graphic designer and typographer. He studied Sociology at Barcelona University, before graduating in Graphic Design at IDEP school in 1989.
He created the type project 'Garcia fonts & Co.' in 1993, and founded Typerware in Barcelona. He was awarded two citations for Excellence in Type Design for his font, Pradell in the 2001 bukva:raz! competition and Type Directors Club in 2002.
Specialising in typography design, some of his typefaces are included in the catalogs of FontFont and ITC (International Typeface Corporation).
[Andreu Balius, November 2002]
Web: http://www.typerepublic.com/
Fonts designed by Andreu Balius