Alex Kaczun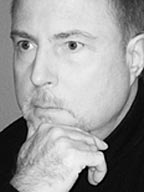 Alex Kaczun is classically trained in the typographic arts, having studied for a BA in Fine arts & graphic design at Lehman College, New York. He also studied computer science at the New York Institute of Technology.
In 1976, he joined Mergenthaler Linotype, where he worked on digital versions of Ruzicka's Fairfield. He also continued the development of Bell Centennial, wrapping outlines around Matthew Carter's bitmaps.
He has been a type director for a New York ad agency and was a key contributor during the founding of Bitstream Inc. While at Linotype-Hell, he modernised the Linotype Library. He also managed the development of the Adobe PostScript Font Library and created multi-master fonts for Apple Computers' QuickDraw GX technology.
His fonts are released by Galápagos Design Group, and his typefaces include a Greek face commissioned by Harvard for its libraries. He also developed the Voon font family for Bell Atlantic Mobil.
He is the founder of Type Innovations, a company that provides innovative solutions for all typographic needs. Currently, he writes a blog at Typophile. He is based in Northport, New York.
[LC, December 2009]
Web: http://www.typeinnovations.com/
Fonts designed by Alex Kaczun