Adrian Williams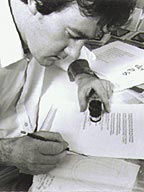 Adrian Williams began his career converting many established metal designs for the new filmsetting devices in 1969; an era when Other Equipment Manufacturers offered their devices, each with its own kind of unit system for the operating program.
During the 1970s he became involved with converting typefaces to digitised systems and is responsible for many original designs which he redrew, working with each manufacturer to make fonts for their unique formats. This led to the production of custom made fonts, designs for Corporate Identity and Branding commissions, and typefaces such as Monkton, Bulldog, and Congress Sans in the Club Type Collection.
He continues to offer further original typeface designs of relevance from his base in Surrey, England. The collaboration with Dr. Rosemary Sassoon since 1985 has produced some of the most successful educational typefaces for use in British schools.
[Adrian Williams, July 2005]
Web: http://www.clubtype.co.uk/
Fonts designed by Adrian Williams