Joshua Korwin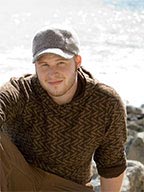 Information about the typeface designer Joshua Korwin and his fonts.
Josh Korwin, born on the East Coast of the USA in 1983, has been a graphic, web, and type designer since the 20th century. Since founding his design company, three steps ahead, in 2001, he has fostered his interest in typography and released his first commercial typeface, Bauer House, in 2006.
Inspired by Robert Bringhurst's The Elements of Typographic Style, he continues to pursue his love for typography and hopes to spread typographic awareness and education throughout the world. He currently lives in Torrance, California.
[Joshua Korwin, November 2006]
Web: http://www.threestepsahead.com/
Fonts designed by Joshua Korwin: