Michael Mischler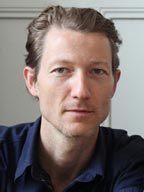 Information about the typeface designer Michael Mischler and his fonts.
Michael Mischler, born 1973, studied at the Schule für Gestaltung Biel, Switzerland. From 1997 until 2005 he worked in Berlin for the publishing house Die Gestalten Verlag. He lives and works as independent designer in Bern, Switzerland.
In 2007 he set up the foundry Binnenland with Niklaus Thoenen to publish their font developments and to distribute their own typefaces through the Internet.
[Michael Mischler, June 2012]
Fonts designed by Michael Mischler: