Yanek Iontef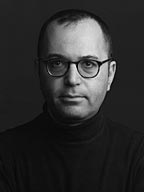 Yanek Iontef was born in born 1963 in the USSR. He moved to Israel at the age of 16 and studied graphic design at Bezalel Academy of Art and Design Jerusalem. He worked as a graphic designer in London and as a Senior Designer at Metamark International, Tel Aviv.
Currently Yanek works as a freelance designer specializing in type design, corporate identity and editorial design. In addition he has his own type foundry, producing a range of Hebrew and Latin fonts which are used extensively by the design community. Since 1995 he has also taught typography and type design at the Bezalel Academy.
In 2000 he was a winner of the TDC Type Design Competition in the category of non-latin typefaces for his Erica Sans typeface. In 2001 he was also awarded by bukva:raz! Type Design Competition excellence in type design for his Next Exit typeface.
Currently, Yanek works and lives in Tel Aviv working on new typefaces and custom fonts for large corporations.
[Yanek Iontef, May 2004]
Fonts designed by Yanek Iontef