Andrew Leman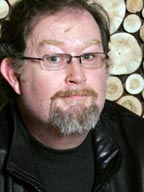 Information about the typeface designer Andrew Leman and his fonts.
Andrew Leman was born in Denver, Colorado, in 1966 to a publishing family, and grew up surrounded by printing and graphic arts. In 1997 he moved to Los Angeles, California, and began working as a graphic prop designer for films and television shows. His work has been seen on the screen in Galaxy Quest, Ali, What Lies Beneath, and The West Wing, among many others.
In the process of creating movie props, he is often called upon to create accurate and detailed replicas of old documents: in a relentless quest for authentic replication of vintage type and the feel of pre-digital printing technology, he has created many of his own fonts, some of which are now available through his own foundry, E-phemera.
[Andrew Leman, June 2004]
Fonts designed by Andrew Leman: