Diego Giaccone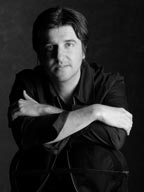 Diego Giaccone graduated as a graphic designer in 1991 from Buenos Aires University.
He has 17 years' experience working with Latin America's leading brands; such as Arcor, Molinos, Coca cola, Havanna, Petrobras, Chandon, Cadbury, Concha y Toro, Grupo Peñaflor and Pepsi.
In 2005 he founded Sure Brandesign, a studio of a dedicated group of professionals with a passion for branding, creativity and innovation.
Diego won the Konex 2002 award, making him one of the top 5 most renowned Argentine designers in the previous decade (1992-2002). He gives lectures and conferences all throughout Argentina, in Ecuador and Paraguay. He is the author of the book: "Quebranding!" and the blog about branding: www.diegogiaccone.com.ar.
He is one of the founding partners of Sudtipos, where he designs new fonts.
[Diego Giaccone, February 2009]
Web: http://www.surebrandesign.com/
Fonts designed by Diego Giaccone