William Morris (1834-1896)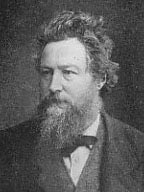 William Morris was one of the most influential men of the Victorian era, a figure who looms large in the world of Arts and Crafts. Even today, of all English designers, his is the work that remains the most easily recognised.
He did not take up typography until quite late in his career. In 1888, he was inspired to start printing following a lecture by Emery Walker at the Arts and Crafts Society in London. In 1890, he set up the Kelmscott Press in collaboration with Walker. He eschewed the mechanical methods of reproduction available at the time. Morris designed his own typeface - Kelmscott Chaucer - for the printing of Chaucer's works - with illustrations by Burne-Jones, and died soon after its completion.
"It was the essence of my undertaking to produce books which it would be a pleasure to look upon as pieces of printing and arrangement of type."
[NOM]
Fonts designed by William Morris