Stefan Willerstorfer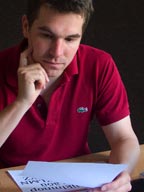 Stefan Willerstorfer was born in Vienna in 1979 and studied design in Austria, in the Netherlands and in England.
In The Hague (NL), at the Royal Academy of Art (Koninklijke Academie van Beeldende Kunsten - KABK), he completed the Type Design course "Type and Media" with a Master of Design degree. At the University of Reading (UK) he completed the course in Information Design with a Master of Arts degree.
Stefan Willerstorfer now lives and works in Vienna as an independent designer. He has been teaching Design and Typography at the Höhere Graphische Bundeslehranstalt in Vienna since September 2009.
In autumn 2010 he was honoured by winning the Joseph Binder Award in Bronze for Acorde.
[Stefan Willerstorfer, January 2011]
Twitter: @willerstorfer
Fonts designed by Stefan Willerstorfer