Giambattista Bodoni (1740-1813)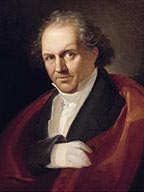 Born near Turin, Giambattista Bodoni was the fourth son of a master printer. He was made director of the Royal Printing House of the Duke of Parma. No printer was more acclaimed in his own lifetime than Giambattista Bodoni. He did away with old-style letters and introduced a new clear simple type - the Modern typeface. The roman letter he cut in 1798 is usually what we mean by a Bodoni.
His type was characterised by a severe simplicity. In his influential Manuale Tipografico of 1818, he laid down the four principles of type design "from which all beauty would seem to proceed", which were: regularity, cleanness, good taste, and charm.
His masterpiece was Homer's Iliad, which was dedicated to Napoleon who made him a Chevalier. He died while at work on his Manuale. Bodoni's influence was enormous and his design held sway throughout the 19th century. In 1907, Morris Fuller Benton recut Bodoni (BT) which is still in use today.
"Beauty is founded on harmony, subordinate to the critique of reason."
[NOM]
Fonts designed by Giambattista Bodoni