Diane DiPiazza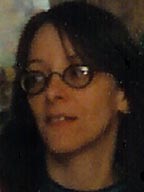 Information about the typeface designer Diane DiPiazza and her fonts.
Diane DiPiazza grew up in Lodi, New Jersey inches away from Manhattan. She spent her early years as a Catholic school girl where her schoolday consisted of one hour of church, two hours of english grammar, and four hours of art. An unlikely concentration of studies to be sure; she learned how to behave in church, she can spell your, you're, there, their, they're, and can appreciate art with a heavy emphasis on fine art and pop art. She loves Vincent Van Gogh, Andy Warhol, Robert Maplethorpe and Patti Smith equally.
She's been the original bass player for The Misfits, a student at William Paterson University, The School of Visual Arts, a marketing research analyst, a graphic designer and a type designer. She owns dincTYPE and Mystifyingly Glad Design. She lives and works in Hoboken New Jersey and rides a Vespa scooter. She hates TV, except when she sees her typefaces.
[Diane DiPiazza, February 2007]
Fonts designed by Diane DiPiazza: