Zuzana Licko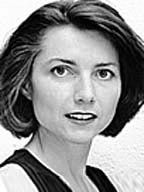 Licko was born in Bratislava, Czechoslovakia, in 1961, and moved to the United States at the age of seven. Her father, a biomathematician, provided her with access to computers and the opportunity to design her first typeface, a Greek alphabet, for his personal use. She entered the University of California at Berkeley in 1981 as an undergraduate. She had planned to study architecture, but changed her major to visual studies and pursued a graphic communications degree. Being left-handed, she hated her calligraphy class, where she was forced to write with her right hand.
She founded the design team Emigré Design with her husband Rudy VanderLans in 1984, and together they produced the critically acclaimed Emigré journal, which included Licko's digital typeface designs.
Emigré was originally intended as cultural journal to showcase artists, photographers, poets, and architects. The first issue was put together in 1984 by VanderLans and two other Dutch immigrants. Since there was no budget for typesetting, the text was mostly typewriter type that had been resized on a photocopier.
Working with the newly invented Macintosh computer and a bitmap font tool, Licko began creating fonts for the magazine. Emperor, Oakland, and Emigré were designed to accommodate low-resolution printer output. They were used in issue two, and, after several readers inquired about their availability, she began running ads for them in issue three. In 1985, Licko and Vanderlans launched Emigré fonts to allow them to market their own typefaces and those of other young designers.
[SLC]