Hermann Zapf (1918-2015)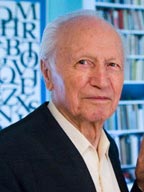 Hermann Zapf was born into a turbulent time in 1918 in Nuremberg, Germany. On the same day a worker's and soldiers' council took political control of the city, Munich and Berlin were in revolution, and the following day Kaiser Wilhelm fled to Holland. In addition to the political unrest, there was an epidemic of Spanish flu which is estimated to have killed some 20 million people. Zapf lost two of his siblings to the epidemic.
He joined the Karl Ulrich and Company printing firm, as an apprentice, in 1934. After this apprenticeship he worked with Paul Koch in Frankfurt. During this period he gained experience of working with handpress type and producing lettering for musical notation. However, his work was interrupted by the second world war and he worked as a cartographer in the German military. After the war Zapf worked at the Stempel AG typefoundry as artistic director.
In 1977 he was made Professor of Typographic Computer Programming at the Rochester Institute of Technology in New York and his fonts Palatino, Optima, Zapf Chancery, and Zapf Dingbats are now familiar designs found on all personal computers. Optima, Zapf's personal favourite font, was selected for the engraved names on the Vietnam War Memorial.
From his first typeface designed when he was just 20 years old (Gilgengart), through more than 200 others right up to the present day, Zapf's work has achieved an unmatched popular success, while maintaining an aesthetic level which has earned him praise from professionals throughout the world. Several of his most popular type designs, such as Palatino, Optima, ITC Zapf Chancery Italic, and , are resident on most home computers. Other fonts, such as Michelangelo, Zapf International, and Zapf Renaissance - among numerous others - are the mainstay of many of the finest graphic designers of today.
Hermann Zapf was married to the type designer and lettering artist Gudrun Zapf von Hesse. He died in 2015 at the age of 96.
[SLC; Photo © Emilio Naranjo, reproduced with permission, June 2015]
Fonts designed by Hermann Zapf